SharePoint Online and Intranet Collaboration – Part I
Alexis Mourad, our network and system consultant, talks about Sharepoint Online and the collaborative intranet:
Considered for many as a revolution in the industry, the cloud has undeniably shaken the habits of consumers but also businesses. By outsourcing data processing to remote infrastructures, many new solutions have been introduced in various sectors: storage, music, videos and games at the top of the list. Thus, the world of work has been offered a new service to facilitate the administration of their computer systems, a new way to contribute, to evolve.
This is where Office 365 comes in, an innovative suite from Microsoft that includes, in the form of a subscription, classical desktop software, e-mail, instant messaging and online storage. In evolution since its first version (2011), this creation makes it possible to improve the efficiency of an internal organization, to outsource tasks and to reduce costs through a digital transformation.
Office 365 has many functional bricks of varying sizes, including SharePoint Online. And if we talk about it today, it's to talk about the collaborative aspect of this product, used more in business. Neurones IT accompanies the deployment of these intranets of tomorrow.
This article will be divided into 3 parts.
In Part I, Alexis Mourad, our collaborative consultant explains how this tool represents a very advantageous platform and will focus on its simplified organization.
A very advantageous platform
SharePoint Online is a platform that opens the door to a set of web technologies to store, modify, or share files within an organization. In the form of sites, this service focuses on collaboration with, among others, document exploitation and project management. It is ideal for designing a wiki, blog or mostly an intranet.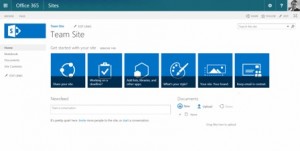 In public or private access, a SharePoint site is generally a set of pages, themselves composed of containers, where the user can add all sorts of elements. Its use is interesting in the context of a company.
Four axes can summarize its advantages:
Efficiency : Mission planning, project management, and the creation of social spaces are examples of possible productive actions under SharePoint Online. A way to speed up and deal more calmly with the tasks to be accomplished.
Accessibility : Taking up the features of the ecosystem set up since Windows 8, the interface of the platform is purified enough for a pleasant grip. If the navigation is still perfectible at the moment, the service enjoys a so-called "cross-device" portability. The user can thus authenticate from anywhere, at any time and on several devices at the same time (desktop or mobile PC, smartphone, tablet …).
Security : Two administration panels are included: one for the parameters of its own site, and the other one more global on Office 365. They also allow a more robust access control (granularity of authorizations) and document integrity.
Personalization : SharePoint sites are, of course, customizable. The tool natively includes a set of themes and applications by default. If necessary, the user can use the SharePoint Store for additional resources, or SharePoint Designer software to make changes to source code and workflows.
Like Office 365 products, SharePoint Online is hosted on the cloud by Microsoft and therefore brings similar benefits, including its impact on resources. It is not necessary to have physical servers or internal support for its use, especially as data centers provide optimal performance, relieving IT teams. The updates are finally applied automatically.
Simplified site structure and subsites :
SharePoint is distinguished from other intranet design solutions by its navigation model. The organisms are particularly attracted by its hierarchical structure, composed of a site collection and comparable to a family tree. The set starts from a "parent" (or "team") site and then divides into several sub-sites, as shown in the diagrams below: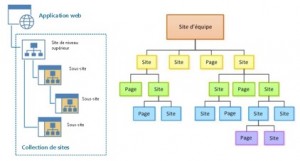 In this way, the user can easily find his way through the navigation bar. This bar can be generated dynamically according to the content consulted. A facility which is also illustrated by the creation of content, since the sites are conceivable by project, by member, by customer and even according to themes (saved or not).